Runhu has over 20 years manufacturing experience of testing equipment, and we have invested our own research and development center, independent mechanical plant, assembly lines and product quality inspection workshop.
Guangzhou Runhu Instruments Co., Ltd. is aprofessional instrumentation company consisting of research, production, sales, and technical service. As a high-tech company, Runhu's  main production includes professional testing equipment and facilities of paper, packaging, printing, fabric, plastic, film, medical masks, protective clothing, food, tobacco sheet and so on. The main products of Runhu include Air Permeability Tester, Crush Tester, Compression Tester, Tensile Tester, Tearing Strength Tester, Bursting Strength Tester and so on. The headquarters of the company locates in Tianan Energy-saving Technology Park, Panyu District, Guangzhou. Guangzhou Runhu Instruments Co., Ltd. is one of the most advanced manufacturers of southern china.
Room 411, 412, Bldg. 15, Tian'an Efficient Technology Park Headquarter Building, No. 555, North Of Panyu Road, Panyu Dist, GuangZhou, GuangDong, China (Mainland)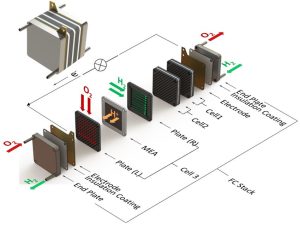 Hydrogen fuel cells have gained increasing attention as a sustainable energy source due to their high energy efficiency and low environmental impact. A fuel cell operates by converting the chemical energy from hydrogen fuel and oxygen into electricity, heat, and water. The key components of a fuel cell include the...
Read More
{"slide_show":3,"slide_scroll":1,"dots":"false","arrows":"true","autoplay":"true","autoplay_interval":2000,"speed":300,"loop":"true","design":"design-1"}